Monthly Service : August 05, 2012
Good Morning, everyone! Happy New Day, Week & Thank you especially for attending. Today's service is the first monthly service for August, 2012. I hope you are all enjoying good health & excellent spirits.
As I told in my previous sermon, Daichi, our younger son visited Japan for two weeks last month.
The Japan Foundation has a program called the "Kizuna (bond) project". It's exchange project between Japan & the U.S. youth as one of the programs to promote connections, or 'bonding' to support Japan's recovery from the Great East Japan Earthquake in 2011. In June & July 2012 some 1000 American high school students from all over the U.S. took a two-week study tour to Japan. They visited the devastated Tohoku region, traveled to the Tokyo & Kansai areas & visited a number of Japanese host schools. They got a 'close-up' look at the realities of ongoing reconstruction work.
On the other hand, some 1000 Japanese high school students from the disaster-affected areas headed for different destinations across the U.S. and participated home-stay and exchange program to explain the current situation of reconstruction at their own school. This project aims to contribute to deepening the U.S. citizens' understanding of Japan's reconstruction. It also intends to cultivate future leaders who will take the initiative in advancing Japan-U.S. exchanges.
The program was well organized. Daichi & other students from Illinois as well as other states received several lectures about "Damage & Reconstruction from the Disaster." As volunteers they made boxes of wood, decorated them & donated them to disaster victims.
They had time for sight-seeing as well, touring some museums & walking around Asakusa & Akihabara in Tokyo & Shijo Kawaramachi area in Kyoto. They visited Kita-ku Bosai Center, Life Safety Learning Center & experienced each level of earthquake. Historical places on their tours included the Meiji Jingu in Tokyo; Kinkakuji & Nijo Castle in Kyoto & Osaka Castle.
The Keio Fujisawa Shonan Senior High School was their Japanese host school for Daichi & his 19 friends from the Northside College Preparatory High School of Chicago. They visited various classes & joined after school activities as well. I think they could see Mt. Fuji from there. They all might be impressed with its beauty.
Daichi & other students had wonderful & memorable experiences in Japan beyond all measure. When I picked him up at the O'hare airport on Sat., July 21st he told me that he wished he could have stayed in Japan for a long, long time. I hope Daichi deeply felt the heart of Kami develop within himself through every person he encountered as well as everything he saw & heard in Japan.
I had the morning prayer service with Kanako, his mother, at 5:00 am as usual on the day Daichi returned. I opened the Konko Sacred Book at the end of the formal prayers, asking in my heart that Kami's desire for Daichi to do now, with the experiences he'd gained by participating in Kizuna project. When I read the teaching I received I was almost moved to tears. It is the mediation given to Rev. Shinichiro Shirakami II, the son of a Konko minister whom The Founder identified as one of, "...only three who have truly fulfilled Kami's wishes."
As the younger Shinichiro recalls, "After my father died, I went to see Konko-Sama & asked what I should do. Konko-Sama replied, 'What do you want to do?' 'I would like to succeed my father & spread the Way of Faith, but since I have been only a merchant, I don't know anything about the Faith. Thus I feel uneasy.' Konko-Sama said, 'It is natural for the child to succeed his parents. Your heart is in the right place, & doing so will certainly be good.'
"I requested, 'Then could you grant me the ability to give hand divinations?' 'That depends on your heart. You needn't do such things in the beginning, just impart teachings to believers,' said Konko-Sama. 'Please teach me how to give teachings.' 'Teachings are given at certain times to certain people. I cannot teach you how to give teachings ahead of time. But don't worry. Just practice faith wholeheartedly & you will eventually learn. Succeed your father without relying on others. Kami-Sama will teach you. Say what comes to your mind. Kami-Sama will make whatever you say come true.'
"After hearing this, I made up my mind to succeed my father in serving the Faith."
As I read this, I thought, "Wow! What a depth of teaching Kami has shown me in our Founder's Sacred Books!" This is the only teaching our founder gave that mentions the succession of the Faith from one generational Mediator to the next. More importantly, it is expressed so precisely & concretely! To me it said that Kami wishes Daichi to deepen his faith through his Kizuna project experience.
At each morning & evening prayer service everyday the last words of my prayers are:
"May the Takeuchi family & the Chon family be in good health & all Kami's wishes to both families be fulfilled! May our children & grandchildren become persons of great service to Kami & people! If my wish comes true, may Kami train some of my children & grandchildren to become genuine Mediators!"
I don't want to impose my will on anyone of them to do this. But because I received this teaching, it seems to me that Kami also has the same desire for our children & grandchildren. That was why I was so deeply moved as I read this passage.
May I mold myself as an example to inspire others in my natural family _&_ my church family to practice that 'Way-of-Faith' that can transform this world into a more Kami-fulfilled world!... & I ask you most sincerely to please join me this Divine Effort!
Thank you!
Now I would like to call up Daichi to say something about the Kizuna project experience in Japan.
----------------------------------------------------------------
Kizuna Project: My Experience in Japan
by Daichi Takeuchi
The Kizuna Project is a fully funded two-week program sponsored by the Japanese Ministry of Foreign Affairs. From July 8th to July 21st, twenty students from Northside College Preparatory High School (NCP) visited various areas of Japan, including Tokyo, Kyoto, Osaka, and the prefecture of Ibaraki. The purpose of this trip was to raise students' awareness about the conditions in Japan after the earthquake and tsunami of March 11th, 2011. We were able to see and feel firsthand the Japanese culture through sleeping in traditional inns, visiting museums and shrines, doing volunteer work, staying with host families, and attending high school classes.
Being Japanese-American, my parents and I were very excited when we found out I was accepted into the Kizuna Project. I thought that this would be a great opportunity to see for myself how different Japan is from the United States, both culturally and socially. The last time I went to Japan was when I was only five years old: I was not mature enough to appreciate the value of visiting such a wonderful country. Thankfully, I am much older now. Japanese citizens are some of the most polite people you will ever meet and the scenery is astonishing.
One of the first things my classmates and I noticed about Japan was its stunning landscape. It felt like everywhere you looked, you would see an appealing shade of green or an incredibly engineered building. We settled down at the Washington Hotel in Shinjuku on our first night in Tokyo. As you can probably gather from its name, this hotel was very westernized and served an American-style breakfast on the twenty-fifth floor, giving us a great view of the city while we ate. But on the first night, my roommate and I did not get much sleep because we were still awe-struck at the fact that we were halfway across the world, moreover, in a great country like Japan.
For the following three days and nights, the Omoide Romankan in Ibaraki prefecture accommodated NCP, along with three other American high schools partaking in the Kizuna Project. Ibaraki was one of the harder hit prefectures so this was where we did most of our assignments. However, if you were to go to this area of Japan right now, you would hardly be able to tell this region was struck with natural disasters. Being in the countryside, we saw more of Mother Nature's beauty than ever before. Omoide Romankan was magnificent and remains my personal favorite because it was a traditional Japanese inn with tatami rooms and an onsen (hot spring), a wholly new experience for me.
While in Ibaraki, we sat through a lot of lectures and they were rather interesting and informative. We relived the tragedy on March 11th, 2011 through images and videos we had not seen before. We also learned about the current physical, emotional, and economical state of areas in Ibaraki such as Daigo-machi and Hitachi city. For example, since last year, 96% of the electricity in Tohoku, 99% of the phone lines and railways, 98% of the water, and 100% of the national roads and airports have recovered. Despite this, tourism has dropped significantly due to lingering radiation rumors, leading to a deficiency of people at previously popular tourist sites. It was disappointing and quite melancholic to observe this prolonged effect of the Fukushima Daiichi power plant's meltdown. One such case was the gorgeous and unique Fukuroda Waterfalls, which changes with the season, and was basically abandoned save the workers. However, that did not stop us from having a wonderful time there.
Along with going to one of the three major waterfalls of Japan, we had the pleasure of stopping at an oyaki-making school in Daigo-machi. Here, we made delicious pumpkin and apple oyaki, a kind of stuffed pastry. The next day, we arrived at Kawarago Beach in Hitachi city just in time for the preparation of the annual Sand Art Festival. There were fascinating works of handmade art everywhere and we had the chance to do our part by making our own sand sculptures. While both of these events were a blast and did not feel like volunteer work, both of these towns were severely lacking in tourists and local people. The oyaki-making and sand sculpting was our way of volunteering by promoting tourism in the areas that needed it most. Through it all, the people we met remained optimistic, cheerful, and thankful that we were able to make it to Ibaraki.
On July 13th, we began our Tokyo study tour and went back to the Washington Hotel in Shinjuku for three days and nights. During this span, we visited several museums dedicated to natural disasters and Japanese history. I felt that the most important part of this portion of the trip was being in an earthquake simulator. As you readers know, Chicago does not get a lot of earthquakes or any other natural disasters, for that matter. There have maybe been two or three 'real' earthquakes here in the past couple of years but I definitely slept through them all! So experiencing first-hand what the people of Japan felt last year was a rather eye-opening experience for me. It made me grateful to live in a relatively disaster-free city like Chicago.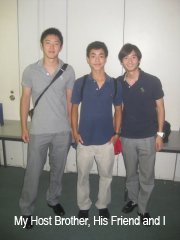 After our tour in Tokyo, we stayed at the homes of our respective host families for two nights and days. Shortly before we finally met them, everybody from NCP was extremely nervous and worried that they would not get along with their host family. Looking back on this moment, our fears were utterly ridiculous, as each host family treated their hosted student like royalty. On both days, NCP students went to Keio Shonan Fujisawa High School with their host sibling. Being in a Japanese classroom setting didn't really feel any different from being in an American classroom: the students all chatted at their friends' desks and were a little rowdy, at least until the teacher came in. After school, we made memories with our host families. I was very lucky because all the members of my host family were nearly fluent in English and their customs were very 'Americanized', making me feel at home. With my loving host family, I went to a summer festival, ate shabu-shabu for the first time (it was so tasty!), played videogames, and lit fireworks. The only drawback of this segment of our trip was that it was way too abridged. I did not get to spend nearly as much time as I wanted to with my host family, but it was by far the most enjoyable two days of my summer.
Following the home stay, we traveled to Kyoto and Osaka for the last three days and nights of our trip. In that time, we visited many different famous sites including the Kyoto International Manga Museum, Kinkakuji, Nijo and Osaka Castle, and the Shijo Kawaramachi area. A lot of shopping was done on the Kyoto study tour and at this point, most of the students including myself did not want to return back to the United States. A small group of eight students and myself decided to spend our last night in Japan doing something that seems to be a Japanese tradition - karaoke! Because of our curfew we were only able to sing for thirty minutes, but it was the most amusing thirty minutes of my life.
I felt a sense of warmth from the Japanese people and the country from the moment I touched down in Narita Airport; everyone was so respectful and all the areas we visited were so breathtaking. It was shocking to see that false rumors of radiation have scared tourists away from astonishing sites like the Fukuroda Waterfalls and Kawarago Beach. If any of you have the time and money to help with the recovery efforts, please do so! Japan has remained a friendly, environmentally conscious, and beautiful nation despite their troubles. This trip has opened my eyes and taught me to be appreciative of the little things in life. As I returned home from O'Hare Airport, I looked out the car window the whole time in gratitude. Although nature in Chicago is not as pure as it is in Japan, I feel very lucky to live in such a great city. I would like to thank the Japanese government and my Japanese teacher, Ms. Jeung-Hee Park, for providing this excellent opportunity. I'd go back to Japan in a heartbeat!
---
Copyright (C) 2012 Konko Church of Chicago